3 Sure-Fire Ways to Sabotage Your Bible Study Efforts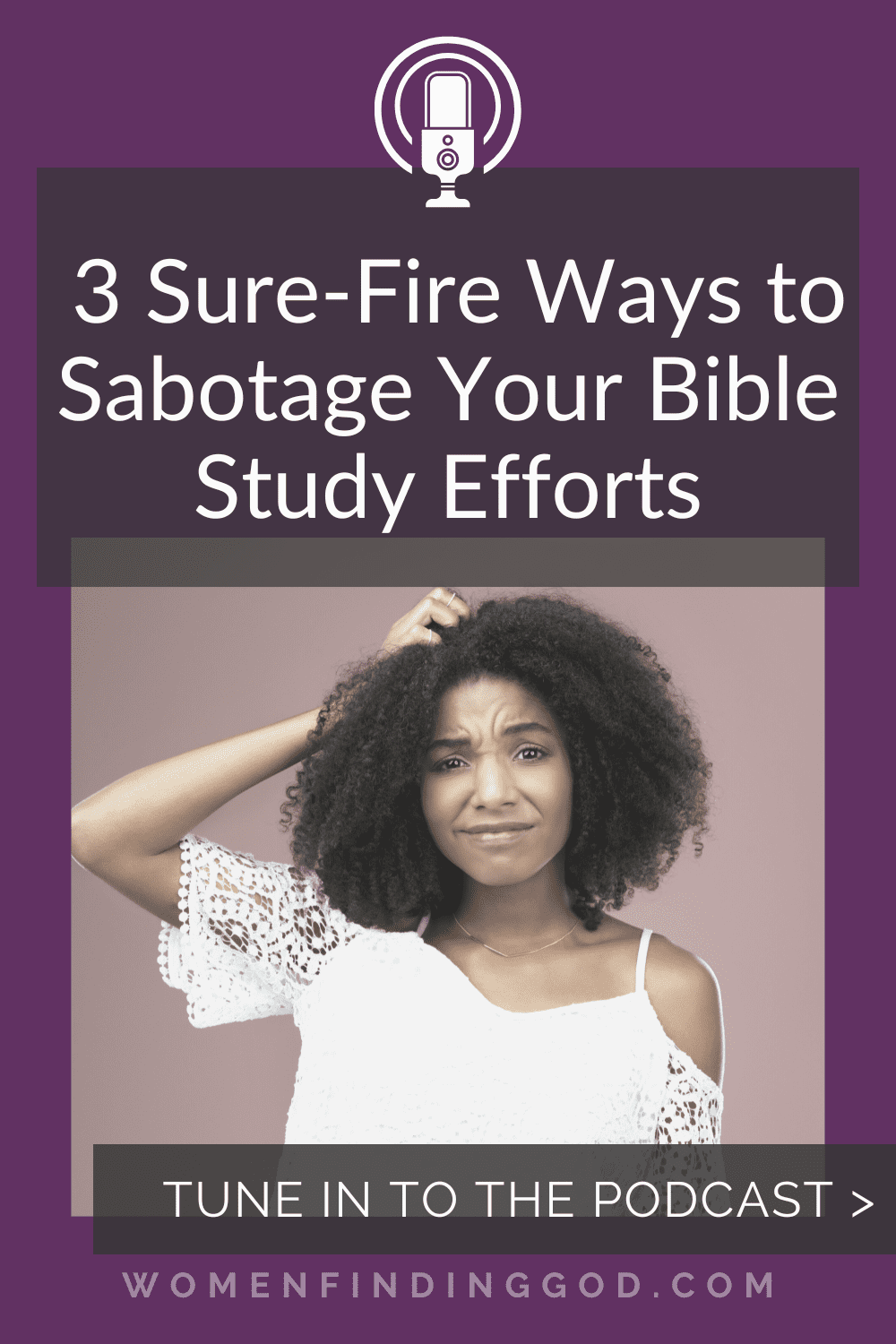 Are you ready to be consistent and confident when it comes to your bible study time? Learn the three ways you could be sabotaging your efforts – without even knowing it. Plus, tips about how to create a bible study routine that you can actually stick to during your daily quiet time with God.
I often hear about struggles with bible study from the ladies inside the Women Finding God Community. Women that love God and want to grow their faith but can't seem to find their footing when it comes to reading, studying, and understanding scripture.
It can be incredibly frustrating to feel stuck especially when you are putting in a lot of time and effort. I've been there. Usually, when I talk with these ladies we uncover a little bit of self-sabotage going on.
Let's explore that a little bit today.
Over the years I have found that there are 3 main ways to sabotage your bible study:
Using a bible translation you don't understand
Just because a certain translation was used in your home or church growing up doesn't mean that it's the only one you can read and study. There is no perfect, correct, biblical translation of the bible.
You need to have a translation that you can read and understand, otherwise, you won't use it. And if you aren't using the bible you aren't going to grow in your faith.
If you are really struggling to understand what your version of the bible says, it may be time to check out a new translation.
Your routine isn't working, or you don't have a routine at all
You need to have some kind of structure or format for how you plan to study the bible. It will help you stay focused and keep you from wasting a lot of time deciding what you want to do.
That said, no routine is going to work forever. As your seasons of life change, your routine needs to change with you. Getting up at 4 am to study for 2 hours may be just fine when you're a student or single. But that's not gonna fly when you're up all night with a baby or teenager.
Your timing stinks
The time of day that you study is important. And I don't mean that in the "you need to spend the first hours of your day with God" way. Sure if that works for you go ahead. But if it doesn't try something different. Here's a quick clue that you need to find a better time to do your bible study: you fall asleep every time you try or you keep forgetting/ run out of time to study.
You need to be awake and alert if you're going to study and retain what you're learning. This means that early morning or right before bed may not work for you. Take advantage of afternoons, commutes, nap time etc.
If you keep forgetting or run out of time then you need to prioritize your bible time. Pick a time that works and then protect it so that you can get it done.
You don't have to stay stuck when it comes to any part of your spiritual growth, especially your bible study time. Just think through the things that you are trying to do to see if it's actually working for you. If it's not it's okay to make changes.
Resources:
Stay Connected:
Subscribe to Hope for the Weary Christian Woman on your favorite podcast app:
Leave a Review and Tell Me What You Think!
"I love LaToya and Hope for the Weary Christian Woman." <– If that sounds like you, please consider rating and reviewing my show! This helps me support more women — just like you — to grow closer to God during the best and worst times of your life!
Click here, to find Hope for the Weary Christian Woman on iTunes
Click on "Listen on Apple Podcasts."
Scroll to the bottom, tap to rate with five stars, and select "Write a Review." Just write about what you loved about this episode (or the show in general). If you can't find the option to write a review try clicking "See All" beside "Rating and Reviews".
Thanks!
Would you like to be featured on the show?
Ask me anything about growing your faith during hard times, overcoming negative emotions and thoughts, how to trust God, heal from past hurts, and how to look forward to life after hard times. You could even leave a note sharing how you've been encouraged by the podcast. I can't wait to hear from you! (Voice messages may be included in a future podcast episode)
Think about your question and when you're ready follow these instructions:
Click the button that says "start recording"
Tell me your first name and ask your question/say your comment
You'll have 60 seconds for your message so try and be concise (you can push the play button to hear the recording and try again if you don't like it)