Not Sure How to Pray? Try Using the ACTS Prayer Acronym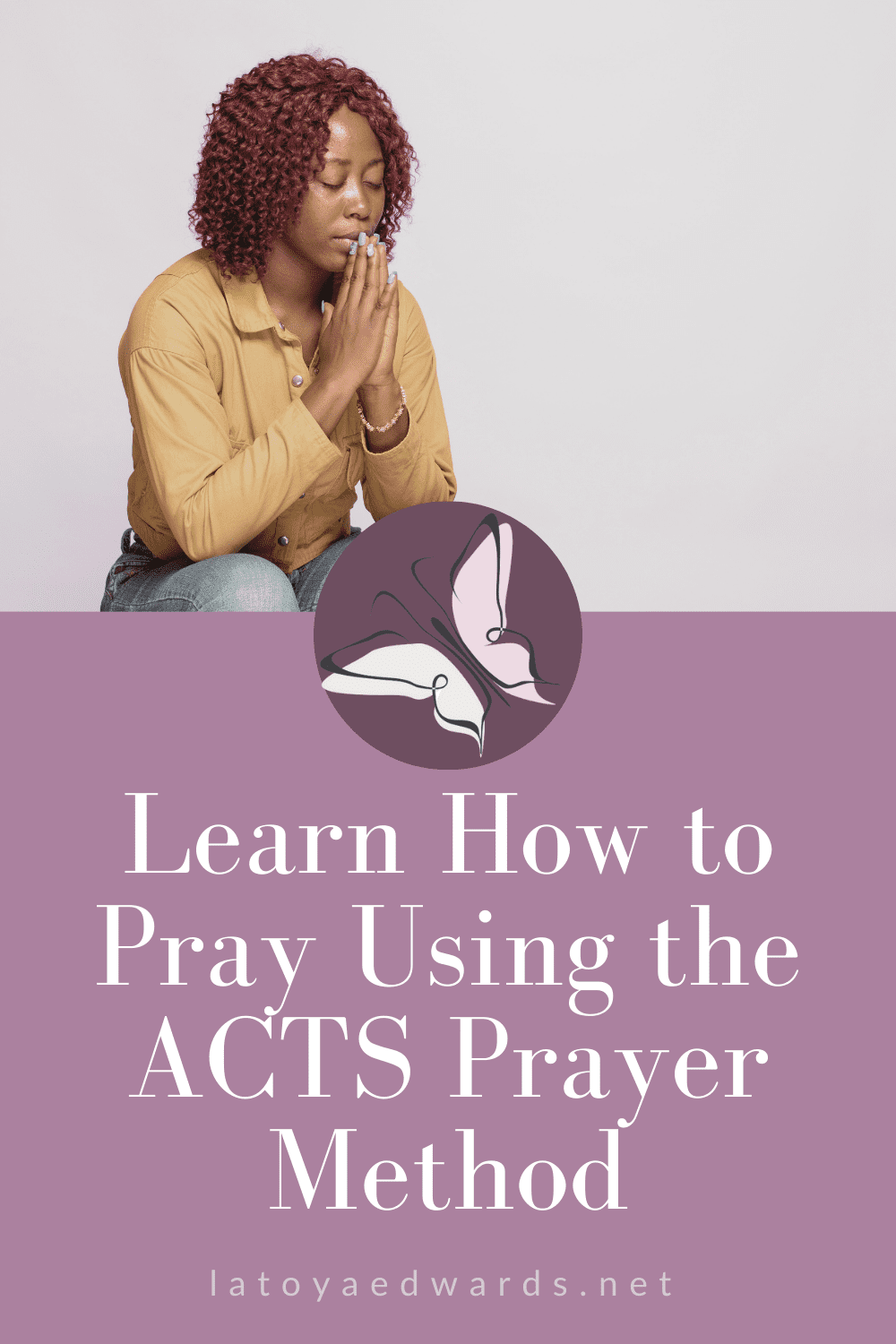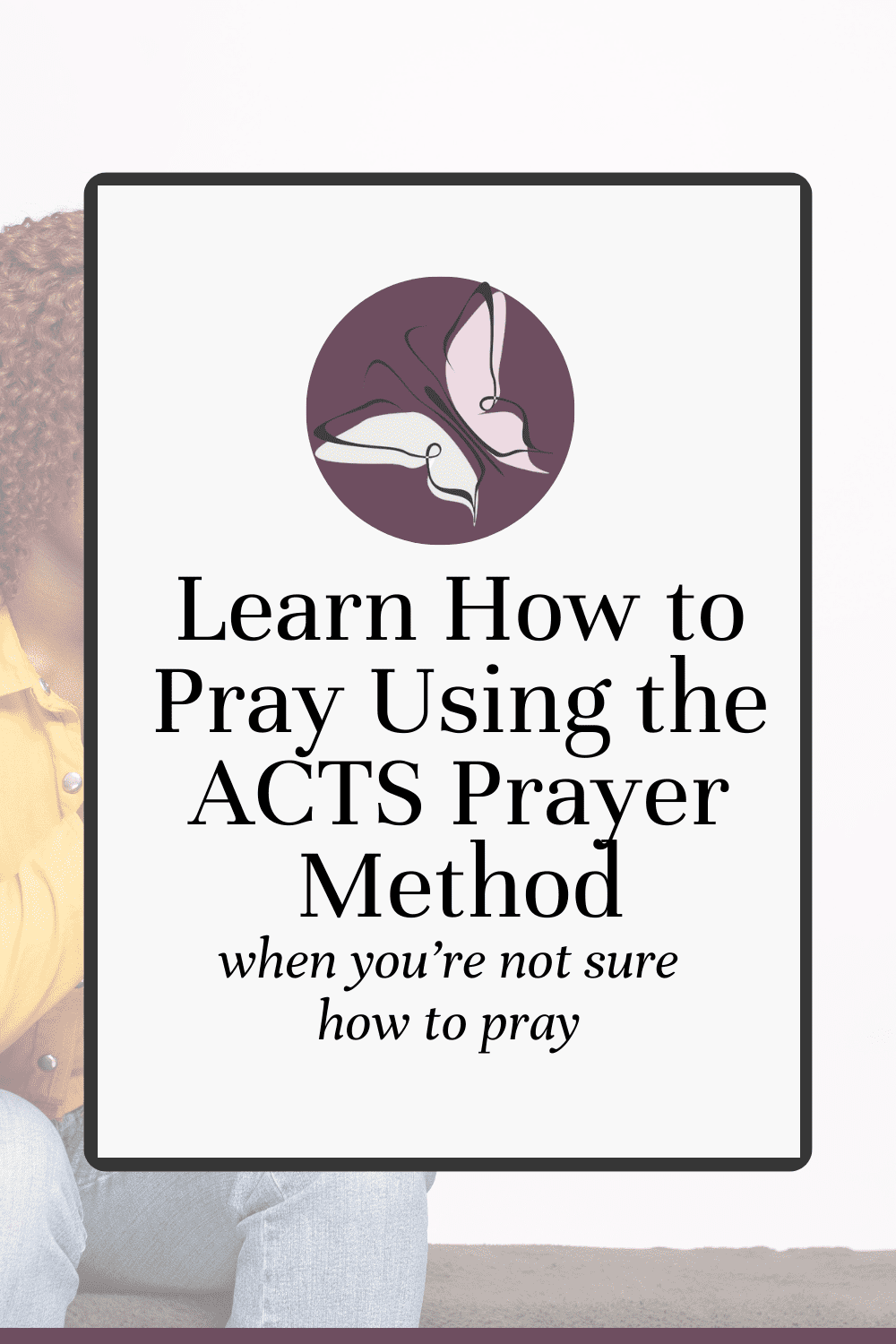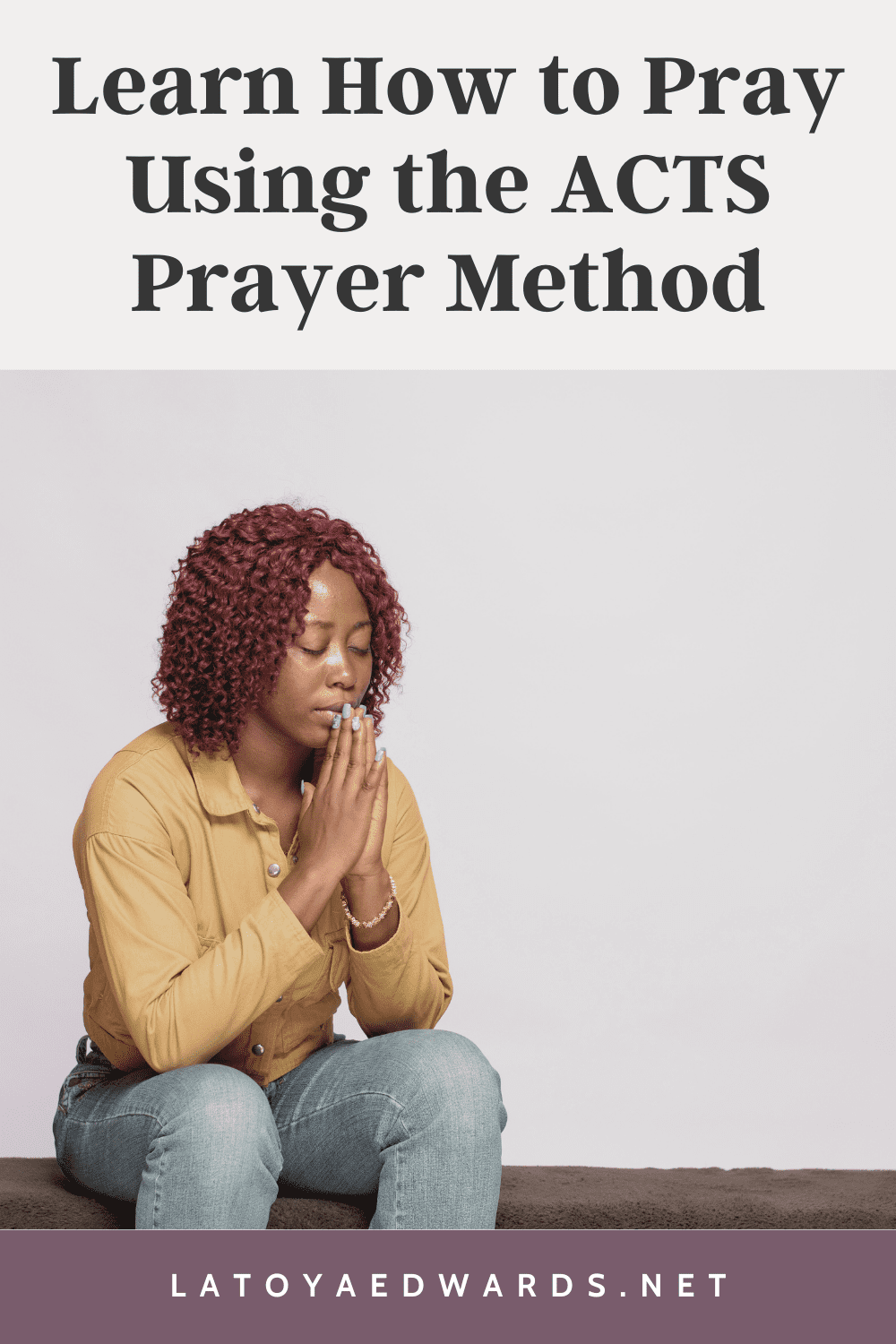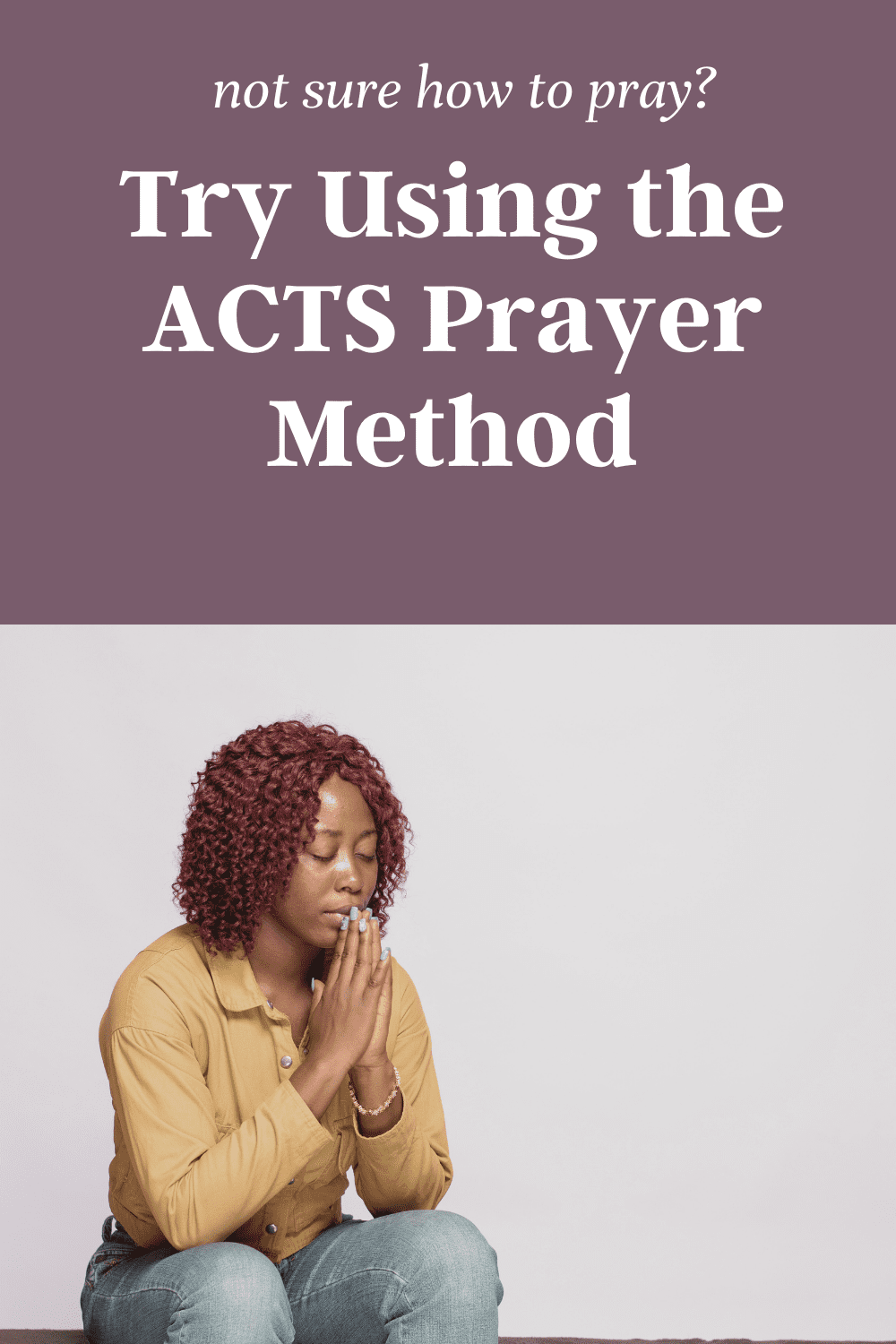 The ACTS prayer acronym is a great way to learn how to pray.
If you are someone who struggles with feeling confident when you pray, I have something really special. Today I'm going to share with you four letters that will help you pray more consistently and with confidence. In previous articles, we have talked about praying scripture and using the Lord's Prayer as a framework and a guide.
Listen on Apple Podcasts | Spotify
Today I want to share with you one of the very first prayer methods that I learned that helped me feel confident in praying on my own without praying scripture or following somebody else's words. I learned how to truly speak to God from my heart and my own words. That is the ACTS prayer method.
There are so many acronyms out there to help you organize your prayer time but I love the ACTS method because it helps me to focus on God before I ever start praying. I'm the kind of person who usually has a lot of stuff going on, I tended to start with my complaints to management about all the things that I didn't like that were going on in my life.
Being able to begin my prayer time by focusing my heart and mind on who God is has helped me to have a better heart posture and attitude when it comes to my prayers. I was able to connect with God deeper because I stopped making my prayer time all about me and my stuff, my needs, and what I wanted.
ACTS Prayer Acronym: Adoration
The A stands for adoration which is simply adoring God because he's God. Take some time to center your heart and mind on the character and the nature of your heavenly father. This is so important because you know that you're going to God.
The whole point of talking to God in the first place is really to connect with him, to get to know him, and to build a relationship with him. So many times we skip over that and just want to give him our laundry list of what we want or what we don't want.
When you do that, you are missing out on so much. You're going to have a shallow relationship if you never take the time to learn about the person that you're spending time with. Adoration is a great opportunity for each of us to pause and focus on God and who God is. I like to actually pray through the names of God.
You can just google "names of God" and find a list if you need one. I spend a couple of minutes going down the list and reciting different names like Jehovah Jireh, Jehovah Rapha, Jehovah Nissi, Emmanuel, you're a healer, you're a protector., you're my shield, and you're my refuge.
I just remind myself of who God is and what he has done and what he wants to do for me. Adoration is taking time to meditate, focus, and dwell on God and his character and his nature. If you don't understand who are you talking to what's the point of praying?
Struggling to be consistent with your quiet time with God? Learn how to connect with God and others as an introverted Christian woman so you can create a quiet time routine and plan that actually works with Introverted Faith.
ACTS Prayer Acronym: Confession
C stands for confession. I'll be honest, this is not my favorite thing to do in my time with God. It's hard to take time to confess our sins, but the word tells us that if we open our mouths and we confess in our hearts that he is Lord, that he will accept us.
The same thing is true when it comes to confessing your sins. In the Psalms, we hear created me a clean heart. Well, that's a cry for just repentance and purification, and that includes confession. When you get to confession, you want to sit down and just open your heart to let God show you what it is that needs to go in your life.
It might be a habit or it might be a TV show. For me, usually, it's an attitude or a thought that I've been having that's not honoring to God, that's not pleasing to him, and that's not uplifting to the body of Christ as a whole.
I'm always grateful when he reveals those things to me because then I can change, repent, and ask for forgiveness, and I can ask him to strengthen me through the Holy Spirit to stay on the right path and not do those things. I want to encourage you to take some time to spend in confession.
Confess the sins that you are aware of, and then ask God to show you your heart. Allow him to show you what's going on that you are not aware of, and offer all those things up to him. Repent, ask for forgiveness, and receive that forgiveness. Then purpose in your heart through the power of the Holy Spirit to not do those things anymore.
ACTS Prayer Acronym: Thanksgiving
T is for thanksgiving, a time of praise. What are all the things that God has been doing in your life or the lives of other people that you can stop and thank him for? This is important to do in prayer because you are putting your heart in the right posture to hear from God.
You are taking the time to acknowledge who he is, to confess your sins, and you're going to thank him for all the things that he's already done before you ever ask him for something for yourself or somebody else. It's a powerful thing to not make this time about you and instead make it about God.
To acknowledge what he's doing and what he's done. To acknowledge who he is and tell him you need him to continue to sanctify and purify you because you're struggling. That is an awesome thing.
ACTS Prayer Acronym: Supplication
The S stands for supplication which is just a big word for asking God for what you want. This is your time to bring your requests before the throne, ask God for what you need, and pray for the other people in your life. This is a great spot for petitions for yourself and also intercessory prayers where you're praying for other people.
Final Thoughts on the ACTS Prayer Acronym
As I said, this prayer method is a really good way to bring confidence in your ability to pray with your own words by developing and cultivating your prayer language and your prayer relationship with God. The thing that I love about this method is that you can pray any way for anything with this method.
This is not only useful in your personal prayer time. You can teach this to your kids. I use this often when I pray with the prayer team at church when it's my time to pray. I have also found myself doing this one-on-one when I'm praying with people. It is the perfect prayer method for whatever your situation is.
It is awesome, and it comes in handy all the time. It has become how I naturally pray now because I've been doing it for so long that it's just become part of me. It's part of how I connect with God. It's how I can connect to others, and it helps me to keep my focus where it needs to be.
Related Prayer Articles: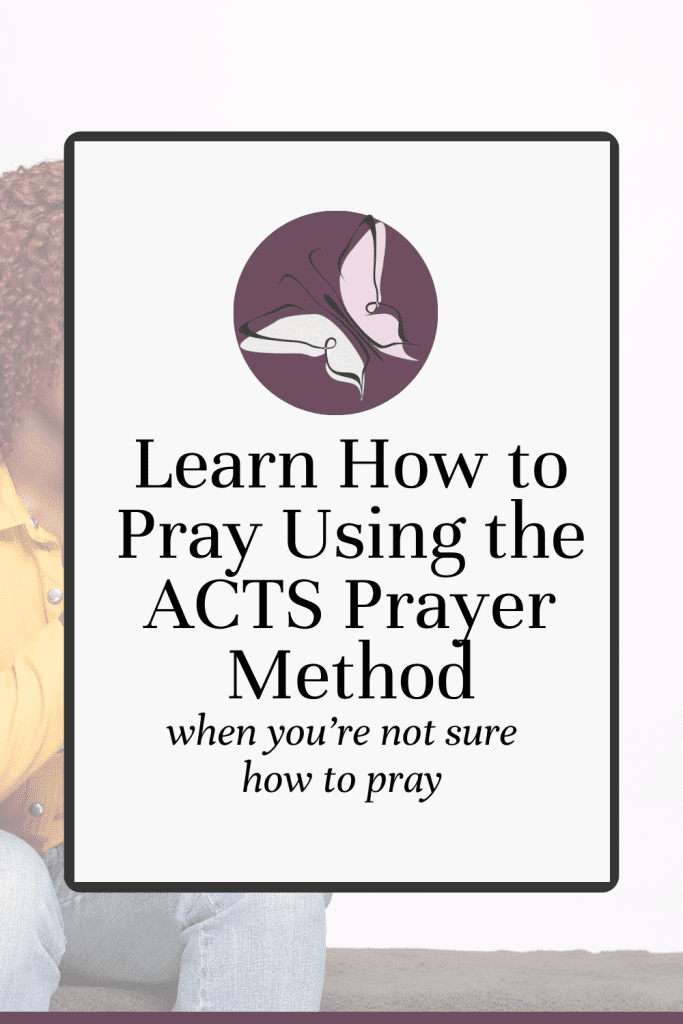 Using the ACTS prayer acronym can help you when you are not sure how to pray.
---
Looking for a community of like-minded Christian women who are growing closer to God during hard times?